Virginia Gay Hospital, Clinics, Home Health, Nursing and Rehab Vinton, IA Full-time
Job Posting Reminder Sent.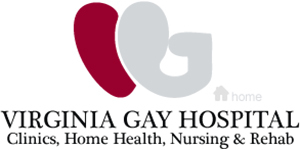 Under the supervision of the Respiratory Care Department Manager, the Respiratory Therapist is responsible to provide respiratory care services in accordance with specific physician's orders and department policies and procedures.
Duties:
The therapist utilizes judgmental responsibility for therapy.
The therapist assesses the effectiveness of the therapy associated with therapeutic gases, aerosols, chest physiotherapy, cardiac monitoring, and pulmonary function testing.
The ideal candidate must be able to work with many ancillary department team members to provide patient care.
Therapist will use the following equipment: Vapotherm, Volara, Trilogy 202 vent, Trilogy EV300 vent, and I-stat machine.
Therapist will also work in the out-patient area to provide testing that includes: Holter monitors, Pulmonary function testing, Stress testing, and Pulmonary clinic days.
Education and Training Requirements:
Must be NBRC Registered Therapist or NBRC Certified and licensed by the Iowa Department of Public Health.
The job involves extensive walking, bending, and lifting of approximately 25 pounds.
Must have current ACLS and BLS certifications.
PALS is required within 6 months of hire.
The candidate must have at least one year experience in respiratory therapy.
Schedule:
This is a full-time opening with competitive salary and benefits.
Open shift is:
36 hours a week
12-hour shifts / 72 hours a pay period
Grow as a professional! We offer a great environment to use all your respiratory skills and grow. At Virginia Gay Hospital, you become an important member of our community's commitment to high-quality care provided close to home. Virginia Gay Hospital is the community's largest employer and provides many services. Services provided are diagnostic testing, clinical expertise in Acute inpatient area, Emergency Medicine, Home Health, Imaging Services, Laboratory, Nursing and Rehabilitation, Respiratory Therapy, Sleep Lab Services, Surgical Services, and Therapy Services.
As a leader in rural healthcare and specializing in family medicine Virginia Gay Hospital and Clinics serves families in the greater Benton County, Iowa area with family medical clinics in Atkins, Van Horne, Urbana, and Vinton. Virginia Gay Hospital was founded with a gift from Virginia Walcutt-Gay in 1914. The hospital has maintained independence with the generous support from the community.